NEWS
Telemetrics is making news on many fronts. See all the latest Product Announcements, User Reports, Case Studies, Press Releases, and our Twitter feed to stay informed.
It's all that's fit to print.
The National Assembly of Azerbaijan, or Milli Majlis, is the country's legislative branch of government that regularly holds meetings and...
Search
Categories
Come see @Telemetrics at the @HamburgOpen2020 (in the @GrassValley booth #324) and get demonstrations of the RCCP-2A Camera Control Panel, Televator pedestal and the PT-HP-S5 P/T head. It's at the Hamburg Messe Exhibition Centre, January 22-23, 2020. Sales@telemetricsinc.com
Twitter feed video.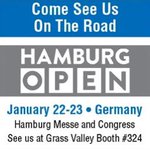 Come See Us At The Hamburg Open -
The @IcelandicNationalBroadcastingService @Ríkisútvarpið (RÚV) is on the air with a robotic camera control system from @Telemetrics. The set up includes a control panel, pan/tilts, elevating pedestals and a TeleGlide camera track.
The shows have never looked better. #studio
Load More...