NEWS
Telemetrics is making news on many fronts. See all the latest Product Announcements, User Reports, Case Studies, Press Releases, and our Twitter feed to stay informed.
It's all that's fit to print.
In an effort to keep their members engaged—both in person and at home—an emerging trend among video production departments at...
Search
Categories
Impressive Underwater Sports Photos Captured By Telemetrics Robotics At Tokyo Games -
An underwater robotic camera system developed in-house by @Telemetrics is being used by the @AP at the Summer Games to capture still images of the water events. The system includes Sony's Alpha camera and a PT-CP-S5 head. Sales@Telemetrics.com. #olympics #underwaterphotography
Wishing everyone a safe and happy holiday weekend from your friends at @TelemetricsRobo

#studio #production #roboticcameras #July4th
Twitter feed video.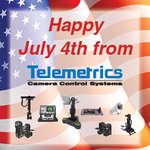 Load More...