NEWS
Telemetrics is making news on many fronts. See all the latest Product Announcements, User Reports, Case Studies, Press Releases, and our Twitter feed to stay informed.
It's all that's fit to print.
With three locations in the Jacksonville, Florida area, Elevate Life Church pays a lot of attention to supporting and connecting...
Search
Categories
China's @Chuan TV News Channel has equipped its newest production studio with a @Telemetrics TG4 robotic camera track mounted on the ceiling for sweeping and ultra-smooth on-air moves. Make the most of your studio space. Sales@telemetric.com. #studio #tvproduction #news

The @Tennessee General Assembly's House of Representatives, located in Nashville, has upgraded its video production capabilities with a @Telemetrics robotic camera system. They now cover the live proceedings with a single operator. Sales@telemetricsinc.com.
#government
In the January issue of Systems Contractor News, page 34, there's a great article on the value and growing importance of PTZ cameras. Check it out.
https://t.co/NPkmsP9lQT…
Looking for a cost-effective solution? Sales@telemetrics.com. #PTZ #studio #remoteproduction
Twitter feed video.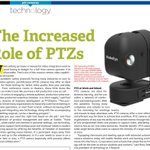 Load More...