NEWS
Telemetrics is making news on many fronts. See all the latest Product Announcements, User Reports, Case Studies, Press Releases, and our Twitter feed to stay informed.
It's all that's fit to print.
The Major Symphony Hall in Miami Hosts A Myriad Of Outside Production Clients With Telemetrics Cost-Saving Technology Allendale, NJ (November 20,...
Search
Categories
On July 8, 2011, Telemetrics camera control systems captured the space shuttle Atlantis launch from Kennedy Space Center. Today SpaceX's Crew Dragon capsule will fly to the International Space Station. Take your productions to a higher level. sales@telemetrics.com
Twitter feed video.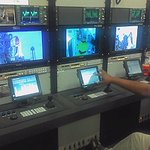 On May 3rd CNN Prima NEWS went live from a new studio in Prague, the Czech Republic, with a full complement of Telemetrics robotic technology. This is now the largest and most modern studio in Central Europe, producing almost 30 programs per week. Sales@telemetrics.com #studio
Twitter feed video.
Telemetrics Offers Compatibility With Zero Density For Advanced AR Graphics Production - https://t.co/36yS8rb5NA
Load More...